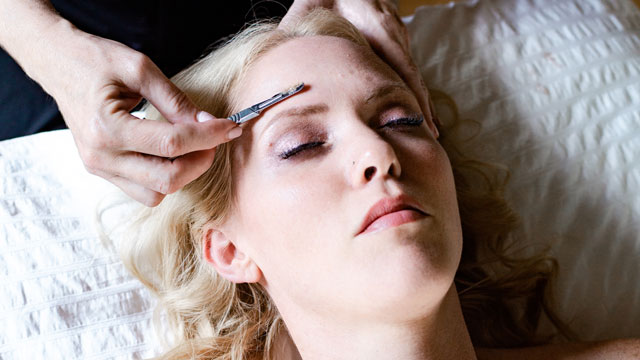 Dermaplaning is a physical exfoliation method that is performed by a trained, licensed Esthetician who uses a scalpel and a soft touch to scrape the surface of the skin using light feathery strokes to gently shave the top layer of the skin, the stratum corneum, dead skin layer, and vellus hair, known as peach fuzz. This treatment results in ultra-smooth, fresh, and brighter skin. By removing that dead layer and hair from the face, the skin is evened out, and it helps with cell metabolism, which allows new skin to come to the surface.
Painlessly exfoliates the stratum corneum to stimulate cellular turnover with little to no downtime.
A great option for guests with sensitive skin and pregnant women who are looking for deep exfoliation.
Can be performed prior to treatments like facials, microdermabrasion, and chemical peels for better product penetration.
Can be performed frequently.
Helps makeup go on smoother and more evenly.
Can help significantly lighten post-inflammatory scars from past acne.
Does not make the hair grow back thicker and darker.
What are the benefits of Dermaplaining?
You'll immediately look more radiant with a more even skin tone and texture. All your peach fuzz will be gone, which is why first-timers say their skin has never felt so soft before.